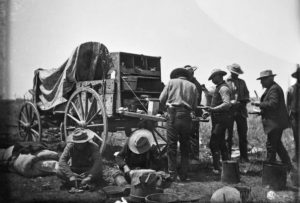 The Bureau of Land Management's mission is to sustain the health, diversity, and productivity of public lands for the use and enjoyment of present and future generations. The Butte Field Office, have been seeking contractors to provide a Class III Cultural Resources Inventory in Silver Bow County, Montana, which contains a number of historic mining sites. The successful contractor is GCM Services Inc. of Butte. The estimated contract value is $6,300.
BUREAU OF LAND MANAGEMENT: Cultural Resource Inventory for Soap Gulch. Notice ID: 140L1020Q0035. Related Notice: 140L1020Q0035. Contract Opportunity Type: Award Notice (Original).
To see the original notice, please go to the following link.
To see the full award, please go to the following link.
Award Details:
GCM Services Inc.
Butte, Montana 59702
USA
+1 406 723 4387
Contact:
BLM Mt Western District Office
106 N. Parkmont
Butte, MT 59701
USA
For the attention of: Jeanna Manseau
jmanseau@blm.gov
Image: Montana Historical Society