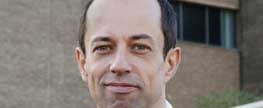 Achim Borchardt-Hume Appointed Chief Curator
Dr Achim Borchardt-Hume joins the Whitechapel Gallery in this newly created role at an important time in the Gallery's one hundred year history.  The gallery reopens to the public on 5 April 2009 after its successful £13.5 million capital campaign and expansion project.
Working closely with Iwona Blazwick, Director, he will oversee a broad programme of modern and contemporary art exhibitions, new artist commissions, presentations of rarely seen public and private collections, focused displays from the Whitechapel Gallery's historic archive, and an extensive programme of publications.
Borchardt-Hume was previously Curator for Modern and Contemporary Art at Tate Modern where he has curated large-scale exhibitions such as "Albers and Moholy-Nagy: From the Bauhaus to the New World", "Rothko: The Late Series" and the eighth commission in the Unilever series for the Turbine Hall, "Doris Salcedo: Shibboleth."  Prior to which he held curatorial posts at the Barbican Art Gallery and the Serpentine Gallery.
Following the Whitechapel Gallery's reopening, he will lead an expanded exhibitions team including Andrea Tarsia, Head of Displays & Curatorial Studies; Candy Stobbs, Senior Exhibitions Organiser; Shamita Sharmacharja, Exhibitions Organiser/Inspire Curatorial Fellow; and Nayia Yiakoumaki, Archive Research Curator. Anthony Spira, Curator, will be leaving the Whitechapel Gallery to take up the position of Director of Milton Keynes Gallery. A replacement for this curatorial position will be recruited to join the department this year.
Born in Germany, Dr Achim Borchardt-Hume moved to London in the early 1990s having completed his Art History studies at the Universities of Bonn and Rome. He subsequently undertook a Ph.D. on the rapport between art and politics in Fascist Italy at the University of Essex. Having contributed to major exhibitions such as "The Romantic Spirit in German Art" (Hayward Gallery, 1994) and "Art and Power" (Hayward Gallery, 1995) he joined the Serpentine Gallery in 1999.  There, he co-curated the first major UK exhibition of Stan Douglas and worked with a wide array of international contemporary artists. Following positions of Curator and Interim Head at Barbican Art Gallery, in early 2005 he joined Tate Modern.  There, he curated a number of Collection displays including monographic rooms by Ellsworth Kelly and Gerhard Richter as well as large-scale exhibitions.
Dr Achim Borchardt-Hume, said, "I feel privileged to be joining the Whitechapel Gallery at such a critical and exciting moment in its long and distinguished history, and look forward to contributing to its future success as a leading international venue for the public display of modern and contemporary art."
Photo: Courtesy of the Whitechapel Art Gallery