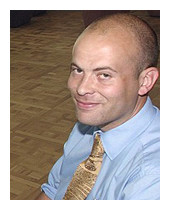 Member of V&A Learning Team to Move to British Museum
Stuart Frost, an experienced member of the V&A's Learning and Interpretation Team, is moving across London to join the British Museum in September this year, as Head of Interpretation.  He is replacing Jim Broughton who recently left the Learning and Audiences team there to become Head of the Zayed National Museum Project at the BM.
Stuart will initially work two days a week for the British Museum, while he winds down his work at the Victoria & Albert Museum.  There, he has led on the audience research and development for the interpretive framework for the new Medieval and Renaissance Galleries.  His work included developing hands-on interpretation and interactives using the latest technology.  The new galleries, which include over 1,800 objects, will open to the public in November, 2009.  He has worked on the project for five years.
Stuart studied medieval history at the University of Surrey and at Cambridge, where he gained his MPHIL in Medieval History.  He also has a MA in Museum Studies from the University of Leicester.  You can follow his blog on the development of the new galleries at the V&A here.