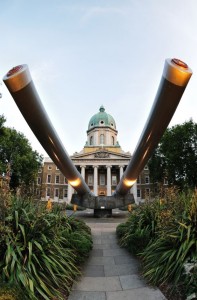 With year-on-year reductions to government funding the Imperial War Museum (IWM), like many other cultural institutions, has been looking at radical ways to ensure viability and sustainability in the future.
Transforming IWM London
Starchitects Foster + Partners were commissioned in 2010 to develop a multi-phase masterplan. This 10-20 year spatial masterplan explored fundamental aspects of the Lambeth site, its circulation and visitor experience, as well its efficiency and economic sustainability. This ambitious masterplan will help to make the Imperial War Museum more lean and efficient in the long-term.
Following the success of Phase 1, which saw the atrium transformed and the opening of the First World War Galleries, the museum is now in the second phase of its masterplan. The new Second World War and Holocaust Galleries are currently in development and due to open in 2020.  Several back-of-house spaces will be given over to these new galleries, displacing staff and collections stores. The All Saints New Build Accommodation project has now begun, to address the urgent need for office space.
A new corporate hub
Foster + Partners masterplan identified the All Saints building on the Lambeth site as a new corporate hub for the museum. They plan to move all corporate staff from the main IWM London building into this hub by 2020, in time for the opening of the Second World War and Holocaust Galleries. This move follows a major staff restructure, which will facilitate new, more efficient way of working.
Building in fresh income streams
A new £4 million office block for non-operational staff, referred to as All Saints New Build Accommodation, will be built to the rear of the Victorian building. The museum plans to lease out the existing Victorian building, a former orphanage and hospital. This prime-location SE1 building will no doubt generate a healthy stream of income to the museum in the future.
Early stages
The Museum is currently appointing project and cost consultants to drive the new-build aspect of the All Saints project forward, with design teams due to be tendered. Construction is planned to begin towards the end of 2018, with work continuing throughout 2019, into the start of 2020.
Moving collections
This phase of works is a complex exercise, comprising of many parts. In order to make space for the new Phase 2 galleries, some collections will move from the Lambeth Road site to Duxford. Stores at Duxford are being assessed and converted as necessary to ensure that they are fit for purpose for these relocated collections.  A tender has recently been issued for project managers and cost consultants for the conversion of an existing building for collections management services (Building 6) and the building of new large object store (Building 16A) and a paper store (building 104A). Tenders are also underway for the appointment of Storage Furniture and Mechanical and Engineering contractors for the new Building 104A, designed by Architype.  The main building contractor for this building will be appointed in November/December this year, with planned installation of storage furniture in late 2018/early 2019.
No doubt through the course of this project, and other Phase 2 projects, we will see a plethora of opportunities at the Lambeth Road and Duxford sites, from building construction and exhibition fit-out, to interior furnishings and IT installation.
Author
Catherine Morton
Catherine is an interpretive planning consultant living in London.
www.narrativethreads.co.uk