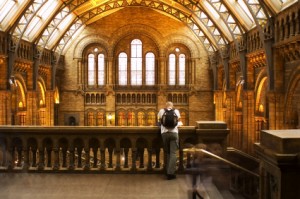 Exhibitions Team Expanding with Two Positions
The Natural History Museum in London is seeing to appoint two creative and well-organised people to contribute to the delivery of the Museum's exhibitions and other public offer projects. You will shape the interpretive development in the permanent and temporary exhibitions, while maintaining the Museum's international reputation for integrity and innovation.
Our new exhibitions will contain up-to-date and inspirational exhibits covering a broad range of natural sciences. You will work with designers, curators and new media developers to ensure that concept designs make best use of our world-class collections, new ideas in design and communication and modern technology in ways that will deliver the Museum's mission most effectively.
Your success will depend on expertise in interpretive development, familiarity with project processes, and successful working relationships with project managers and consultants, and internal teams across all Museum departments.
Please note that applications will be considered for both positions.
The successful candidate should be:
educated to degree level (or equivalent)
experience in the development of science communication products for exhibitions or multimedia
an understanding of learning and/or evaluation in a Museum context
good methodological approach to problem solving
excellent communication skills
Salary: £23 - £28,000 per annum plus benefits
Contract: 12 month fixed term appointment
Closing date: 15 December 2008
For more information go to: http://www.nhm.ac.uk/about-us/jobs/index.html