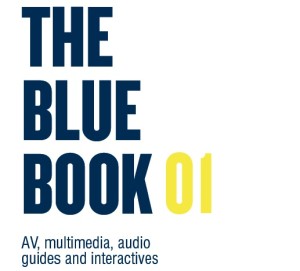 We've been talking to the procurement people at museums and heritage organisations over the past year, and they told us some fairly surprising things.  One of them was that it was difficult to find the right company with the appropriate experience to bid on their tenders.  In fact, one national museum procurement director told me, "Ann, I waste hours of my time searching Google for the right companies."
Starting next month, they will waste their time no longer.  We are now producing a series of six electronic Suppliers' Guides written specifically for museum and heritage procurement people and specifiers.  It's called, "The Blue Book: MuseumINSIDER 2014 Buyers' Guide for Procurement in the UK Museum and Heritage Sector: An Inside Look at Who has been Awarded Contracts, and How to Ensure Your Tender Reaches the Right Company."  Our first volume will be dedicated to AV, multimedia, audio guides and interactives.
Each book will have three sections:
1.  A section on "DOs and DON'Ts" for museums to consider when they are writing their project briefs, based upon interviews we will conduct with the companies who provide portfolio content (more on that in a moment) and with the book sponsor.
2.  Eight page portfolios from each of ten leading companies in the sector, showing their best work.
3.  A directory of the companies who were awarded work in the sector, gathered from our MuseumINSIDER archive.  Each listing will include the company who was awarded the work, and the details of the procurement person who issued the tender.
Each book will be sent to the 1,145 procurement people at 677 institutions in our database.  The institutions include all the National Museums, dozens of people at English Heritage, the National Trust, all the major local authorities, Arts Council England, Department of Culture Media & Sport, the Welsh, Scottish and Irish governments, cathedrals and major places of worship, historic houses, zoos, visitor attractions, tourism associations such as VisitBritain and Failte, etc.
We will be launching the publication at a webinar for procurement professionals, and each book sponsor and company that was interviewed in the "DOs and DON'Ts" section will be invited to participate, as well.
The sponsor of the first book is Antenna International.  The second book will focus on exhibition fit out, and it is being sponsored by Beck Interiors.
I hope you will be able to participate in this project, and help us lead the conversation with procurement professionals to make sure they ask for and get the best possible products and services for their money.  For those of you in the AV and multimedia world, you will need to act fast as that publication is about to close.
Adrian can tell you more, just give him a ring on 01525 211 310 or email him at:  museuminsider@gmail.com.