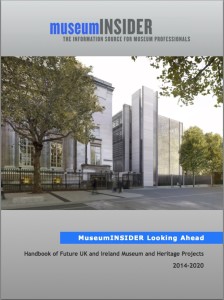 Looking to fill your sales pipeline?  Wondering if there are subcontracting opportunities for your company?  Looking to expand your company's geographical reach?
We have recently published a new, 378 page electronic book that could be just the product you are looking for.  Its called, "MuseumINSIDER Looking Ahead: Handbook of Future Museum and Heritage Projects in the UK and Ireland, 2014 to 2020."  It profiles 170 museum and heritage projects across England, Wales, Northern Ireland, Scotland and the Irish Republic…with budgets totaling over £2.2 billion, scheduled to be completed in the next six years.
Each project entry includes two pages of project information, such as location, budget, timetable and contact details of client and major subcontractors.
If you'd like to see some sample pages, click on the links below.
To find out more, email Adrian at adrian@heritagesolution.co.uk, or ring him on 01525 211 310.