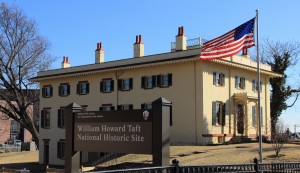 The William Howard Taft National Historic Site in Cincinnati, Ohio,  represents the family, birthplace, and boyhood home of William Howard Taft (1857-1930), the only man to serve his as both President of the United States and Chief Justice of the United States.  They are seeking a contractor to research and write an administrative history of this National Historic Site.
Administrative History William Howard Taft National Historic Site
The National Park Service (NPS), through the Midwest Regional Office (MWRO), requires the performance of research and writing of an Administrative History for William Howard Taft National Historic Site, Cincinnati, Ohio. The history will help complete basic historical documentation of the park's history and resources as developed and managed by the National Park Service. The information contained in the Administrative History is essential for present and future interpretation and resource management.
THIS REQUIREMENT HAS BEEN SET ASIDE FOR TOTAL SMALL BUSINESS COMPETITION IN ACCORDANCE WITH FAR 52.219-6 NOTICE OF TOTAL SMALL BUSINESS SET-ASIDE.
PLEASE BE ADVISED THAT THIS REQUIREMENT MAY BE DELAYED, CANCELLED, OR REVISED AT ANY TIME DURING THE PROCESS BASED ON DECISIONS RELATED TO THE DEPARTMENT OF INTERIOR (DOI) AND NATIONAL PARK SERVICE (NPS).
Interested contractors should obtain contract documents at this link.
Deadline for the receipt of completed tenders: 27 July 2018
Contact:
Nicholas M Murray,
(402)661-1698
nicholas_m_murray@nps.gov
National Park Service
601 Riverfront Drive
Omaha, Nebraska  68102
Image: NPS Photo / Tom Engberg