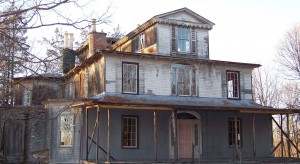 The Dr. Oliver Bronson House in Hudson, New York is a handsome Federal-style residence, built in 1812, which is now located in the grounds of a penal institution.  The property was abandoned in the 1970s and fell into serious disrepair.  Historic Hudson is now seeking a conservation architect to provide design consultancy services and contract administration for phase 3 of the the restoration of this historic building.
Architect for Phase 3
Historic Hudson, a 501(c)(3) with offices at 611 Warren Street, Hudson, New York, is seeking an experienced architecture firm that specializes in the restoration of public historic landmarks to provide design consultant services and construction administration for the Dr. Oliver Bronson House Phase 3 Restoration:
o Restoration of 3rd floor metal roof & tower roof
o Exterior stabilization, masonry, carpentry and restoration of southeast bay
o Utility infrastructure – provide water, electric, septic – utilizing LEED principles
o Basement rehabilitation – ADA exterior entrance and code compliant bathrooms, meeting room, kitchenette, storage and utility rooms, stairway and door leading to first floor, and restoration of historic kitchen entrance and grade
To request a copy of the RFP, send an email to information@historichudson.org with "Architect RFP" in the subject line.
Interested firms are invited to submit proposals by 3 p.m. Monday, July 30, 2018 for consideration by the Bronson Committee. Responses must be delivered by hand, FedEx, or UPS to Historic Hudson at its office location: 611 Warren Street, Hudson, New York 12534.
Proposers are encouraged to register and attend a site visit scheduled for Thursday, July 19, 2018 at 10 a.m. at the Bronson House located on the grounds of the Hudson Correctional Facility.
This project is funded in part by an Environmental Protection Fund (EPF) grant administered by the NYS Office of Parks, Recreation and Historic Preservation (NYSOPRHP). M/WBE Firms are encouraged to apply. Historic Hudson, Inc. is an equal opportunity employer and does not discriminate on the basis of race, color, religion, sex, national origin, disability, age, or marital status.
Contact:
Historic Hudson Inc.
611 Warren Street, 2nd floor
Hudson, New York  12534