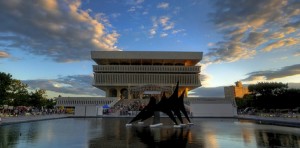 The New York State Museum, located in the state's capital, was established in 1836, and is the oldest and largest state museum in the country.  They are now seeking a contractor to operate the retail shop for a five year period on a concessions basis.
The Museum Shop at the New York State Museum
The New York State Education Department (NYSED) is seeking proposals for the operation of the Museum Shop at the New York State Museum. Eligible bidders must have at least five (5) years of experience in operating retail establishments, with at least one of their sites achieving gross sales in excess of $1.75 million (cumulative) during the five most recent fiscal years.  Bidders with a minimum of 3 years' experience operating a retail shop in a cultural institution are preferred.  A cultural institution is a museum, historical society, nature center, zoo, botanic garden, arboretum or aquarium. The goals of the Museum Shop should be to maximize the merchandising income for NYSED, eliminate the risk to NYSED from retail store operation, and support the mission and vision of the NYSED in a retail market.
NYSED will award one (1) contract pursuant to this RFP. The contract resulting from this RFP will be for a term anticipated to begin January 1, 2019 and end December 31, 2023.
Service Area: NYS Museum Shop, Albany, NY
Prospective bidders are encouraged to arrange for a tour of the New York State Museum Shop by contacting nysmexhibits@nysed.gov. 
Tours will be given during normal museum hours on July 2, 3, 5, 6, 10, and 11, 2018. 
The full RFP will be posted to www.oce.nysed.gov/shoprfp
Due date: 1 August 2018 3:00 PM EDT
Questions regarding the request must be submitted by E-mail to ocerfi@nysed.gov by July 11, 2018
Contact:
Education, NYS Dept. of
Bureau of Fiscal Management
Contract Administration Unit
Adam Kutryb
Contract Management Specialist
89 Washington Avenue
Room 501 EB
Albany, NY 12234
United States
+1 518-474-5314
ocerfi@nysed.gov