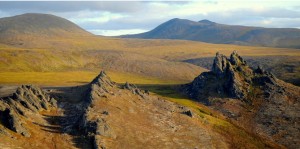 Comprised of 2.7 million acres on the Seward Peninsula in northwest Alaska, Bering Land Bridge is one of the USA's most remote national park units. The preserve aims to protect a landscape that contains an invaluable record of flora and fauna, the history of human migration between Asia and North America and supports an ongoing tradition of subsistence culture.  They are now providing prior notice of their requirement for website development and user experience design for the website that will be most peoples' only experience of one of the earth's most remote landscapes.
INTERACTIVE WEB PAGE FOR BERING LAND BRIDGE NATIONAL PRESERVE
The National Park Service (NPS), Harpers Ferry Center, is soliciting proposals to conceptualize, design, produce, test, and launch a functional interactive web page for Bering Land Bridge National Preserve based on modern, robust, and easy-to-use technology compatible with the current NPS Web systems. The purpose of this contract is to provide website development and user experience/design services required to satisfy the requirements for the new Bering Land Bridge National Preserve (BELA) interactive website. The government anticipates award of one firm-fixed price contract. This solicitation is 100 percent set-aside for small businesses.
The solicitation will be available via Fedconnect on or about July 25, 2018. No paper copies of the solicitation will be issued. Questions regarding this solicitation shall be directed to Jason Albright, Contract Specialist, National Park Service, Harpers Ferry Center, Office of Acquisition Management, P.O. Box 50, 67 Mather Place, Harpers Ferry, WV 25425 or via email at jason_albright@nps.gov.
THIS SOLICITATION IS 100 PERCENT SET-ASIDE FOR SMALL BUSINESS CONCERNS UNDER NAICS CODE 541511, entitled "Custom Computer Programming Services," with a size standard of $27.5 million.
Interested contractors should go to the FedConnect website and search the public opportunities for this solicitation number: 140P1118R0057
Contact:
Jason Albright
National Park Service, Harper's Ferry Center
Acquisition Management
67 Mather Place
IDC Building
Harpers Ferry
West Virginia  25425
Image: Bering Land Bridge/National Park Service