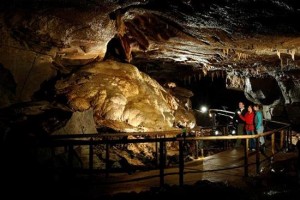 The Jewel Cave National Monument is located in the southwest of the state of South Dakota, and is the third largest cave in the world, with 190 miles of mapped passages.  The National Park Service, who maintain the monument, are now seeking a contractor to produce 12 audio and video interpretive podcasts of the site.
Video Podcast Production, Jewel Cave National Monument
Jewel Cave National Monument preserves and protects the third longest cave in the world, measuring just over 190 miles in mapped and surveyed passages. Volunteer cavers continue to add to this length each year, which also increases the number of questions and possible research projects about the underground resource. Because of this, the interpretive approach used most often in programs and activities relates to the topic areas of exploration and discovery. In short, although the length of the cave is extensive, it only accounts for about three percent of the overall cave volume. Consequently, Jewel Cave is a massive system of complexity that can be easily considered one of the last frontiers in the world.
Over 140,000 visitors recreated at the Monument this past calendar year, and the number of guests has increased for the past five years. Yet, due to limited budgets and available staff, the number of cave tours has remained the same.
To foster an even stronger educational program, the Monument desires the development of multiple interpretive podcasts. The intent is to create various productions that can be used in collaboration with different topic areas, helping visitors experience the Monument with deeper connections to the resources. Used in connection with the Jewel Cave website, as well as through social media such as the Monument's Facebook and Instagram accounts, it is expected that some of the "added" visitors will experience Jewel Cave above and beyond the guided cave tours.
The purpose of this contract is to provide audiovisual, editing, and social media distribution services in order to create twelve (12) interpretive podcasts (audio and video) for use by Jewel Cave National Monument. Upon completion of the finished productions, each podcast will have an estimated length of two to three minutes in duration. Furthermore, each podcast will include a professional (and consistent) title image and conclusion that brands the interpretive media for Jewel Cave, as well as complements the consistencies of NPS podcasts on existing social media outlets. Each production will also include a mixture of video, still images and/or historic pictures, narration and/or interviews with subject matter experts, and music to complement the topics.
Contractors interested in this opportunity should go to this link. Then, click the link "search public opportunities only."  Search for the keywords "JECA PODCASTS".  The tender documents will be available at that page at the result of that search.
Deadline for the receipt of completed tenders: 11 April 2018 5 pm Eastern time
Contact:
Kimberly Hamil
National Park Service
MWR - NEKOTA MABO
24290 Doane Mountain Road
Keystone, SD 57751-4401   USA