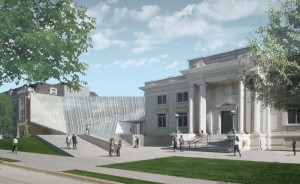 The National Music Museum, dubbed, "the musical Smithsonian, the nation's home for instrumental history" by the New York Times, has now received the go-ahead for a 16,000 square foot addition, to be completed in late 2020/early 2021.  This comprehensive collection, one of the most important in the world, is located in this quiet university town in the southeastern corner in one of America's most unpopulated states - South Dakota.
The proposal, put forward by the Museum's Board of Trustees, was recently approved by the South Dakota legislature. Funding for the estimated $9.5 million building project has already been raised privately by the Museum's Board, with up to $1.5 million of that amount — representing upgrades to HVAC and facilities infrastructure — to be covered by the University of South Dakota.
The museum addition will provide much needed room, including approximately 4,600 square feet of new exhibit space, a gallery dedicated to temporary exhibits, a new performance hall, a dedicated classroom, a new conservation lab, a new photography lab, and new above-ground staff and administration offices.
This construction also presents the opportunity for reconfiguring existing museum space, as well as re-conceptualizing exhibits. The addition and overall renovation will also dramatically improve the visitor experience.
Contact:
Dennis Acrea, Interim Director
National Music Museum
University of South Dakota
414 East Clark Street
Vermillion, South Dakota  57069
USA
+1 605 677 5306
dennis.acrea@usd.edu
Image: Schwartz/Silver Architects