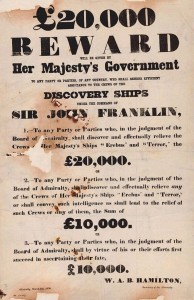 Franklin's lost expedition was a British voyage of Arctic exploration led by Captain Sir John Franklin that departed England in 1845 aboard two ships, HMS Erebus and HMS Terror.  The two ships became icebound in Victoria Strait near King William Island in the Canadian Arctic and the entire expedition, 129 men including Franklin, was lost.  Parks Canada is now seeking a contractor to work collaboratively with Inuit knowledge-holders on an oral history research project about Inuit knowledge of the expeditions and the wrecks of the vessels in the Inuit homelands.
Franklin Expedition Inuit Oral History Project
The Contractor will work collaboratively with Inuit knowledge-holders, community members and Parks Canada experts to summarize, conduct and share oral history research related to Inuit knowledge of the 1845 Franklin Expedition and the wrecks of HMS Erebus and HMS Terror.
The objectives of the project are:
To conduct a bibliographical, archival and oral history research project into Inuit oral history of the 1845 Franklin expedition, and specifically the associated shipwreck sites of HMS Erebus and HMS Terror
To produce professional interpretive materials—including video clips, audio clips, and a book—for Parks Canada on this topic. These materials will help Parks Canada present to the public a history of Inuit knowledge of the Franklin expedition, and will contribute to an understanding of the shipwreck sites as part of Inuit homelands.
To provide opportunities for Inuit Elders to share their knowledge about the 1845 Franklin Expedition and to document that knowledge.
To provide capacity-building opportunities for Inuit youth and adults related to oral history collection and presentation.

National Parks Regulations require that all work is to be performed in accordance with the ordinances, laws, rules and regulations set out in the National Park Act.

Bidders that consider themselves qualified to provide this Work and intend to submit bids on this project should obtain documents from the Government Electronic Tendering Service through the Government of Canada tendering service at www.buyandsell.gc.ca/tenders . Addenda, when issued, will be available from the Government of Canada tendering service. Bidders that elect to base their bids on documents obtained from other sources do so at their own risk. Late submissions will not be considered.
Standard Terms and Conditions for this procurement are incorporated by reference into, and form part of the Tender and Contract Documents.

The solicitation is subject to the Nunavut Comprehensive Land Claims Agreement.

Delivery Date: The Work must be completed on or before December 17, 2019.

Inquiries:

All inquiries of a technical and contractual nature are to be submitted to the Contracting Authority: Céline Morin, telephone: 613-938-5940, e-mail: celine.morin@pc.gc.ca Inquiries are to be made in writing and should be received no less than ten (10) calendar days prior to the closing date to allow sufficient time to respond.

This PCA office provides procurement services to the public in either official language of Canada.
The Crown retains the right to negotiate with suppliers on any procurement.
Documents may be submitted in either official language of Canada.
Further information on this opportunity can be found at this link.
Deadline for the receipt of completed tenders: 27 March 2018 14:00 EDT
Contact:
Celine Morin
Parks Canada
111 Water Street East
Cornwall, Ontario
K6H 6S3
Canada
+1 613 938 5940
celine.morin@pc.gc.ca
Image: Library and Archives Canada