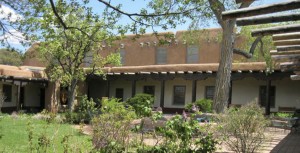 The Old Santa Fe Trail building in Santa Fe, New Mexico, was constructed between 1937-1941 during the New Deal Era, by Civilian Conservation Corps and Works Progress Administration crews in the style know as Spanish Pueblo Revival.  The National Park Service, who own and care for the property, are now giving prior notice of a tender for historic buildings contractors to restore the exterior of the structure.  The tender is expected to be issued around 5 March.
Rehabilitate Exterior Envelope and Historic Elements of the Old Santa Fe Trail
Description: This multi-phase project will address severe deficiencies present in the exterior envelope and surrounding historic features of the Old Santa Fe Trails Building. Project work will include: Demo existing and replacement of stucco on all exterior walls and parapets of the structures. Demo and replacement of membrane roofing on all roof surfaces including nail plate and flashing. Repair/replacement of all degraded adobe bricks beneath the stucco. Repair/replacement of all damaged/degraded structural components(wooden)such as vigas, lintels, sills, latillas, beams, and rough cut framing, and historic gates. Repair/replacement of all degraded drains, canales, and gutters.
Project will be constructed under a single prime contract.
Type of Procurement: A negotiated, firm-fixed price contract will be awarded requiring submission of both a technical and a price proposal. The government will consider an offeror's technical capability in comparison to its price using the best trade off value method of procurement. Technical factors will be stated in the Request for Proposal in Section M.
Estimated Price Range: $5M - $10M
Estimated Period of Performance: May 2018 - April 2019
Ol
All responsible sources may submit an offer which, if submitted in a timely manner, will be considered. It is the policy of the government to provide maximum practicable opportunities in its acquisitions to small business, veteran-owned small business, small disadvantaged business, and women-owned small business concerns. Such concerns must also have the maximum practicable opportunity to participate as subcontractors in the contracts awarded by any executive agency, consistent with efficient contract performance. All offerors are strongly encouraged to contact their local Small Business Administration Office, to post their need for qualified subcontractors at http://www.sba.gov.
The official solicitation is expected to be issued around 5 March, 2018.
Further information can be found at this link.
Contact:
Jason Longshore
Contracting Officer
jason_longshore@nps.gov
Phone: (303) 969-2288
12795 West Alameda Parkway
Lakewood, Colorado 80228
Image: C. Mardorf, NPS