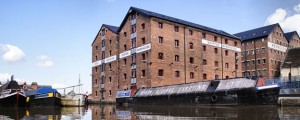 Gloucester Waterways Museum has funding from the Heritage Lottery Fund for a project dubbed 'From Birmingham to the Sea', which will see the museum change its displays to tell the story of the River Severn and the canals from Sharpness to Birmingham.  They are now seeking expressions of interest from experienced interpretive designers to complete the detailed design for the project.  The total contract value is £98,470 which includes £55,470 for graphics.
Gloucester Waterways Museum Interpretative Design Scheme
Canal & River Trust wish to appoint an Interpretive Designer to complete the Technical Design (from current RIBA Stage D) to Tender Documentation (RIBA Stage G equivalent). The tender will also include a price to completion (RIBA Stage L), to deliver all supply and installation of the scheme.
The project is supported by a Round 2 Heritage Lottery Grant (HLF). There are budgets provided within the brief document which have been approved by the HLF.
There are two distinct phases to this commission and only once we have sign-off from Canal & River Trust and HLF will the second phase begin.
Total scope of project: £98,470. This includes Fees to finalise design and coordinate the fabrication and installation £43,000. There is also £55,470 for Graphics (Artwork, imagery & script editing.
NOTE: To register your interest in this notice and obtain any additional information please visit the myTenders Web Site at http://www.myTenders.org/Search/Search_Switch.aspx?ID=154629.
Deadline for requests to participate
    08-06-2015  Time  12:00
Contact:
Canal & River Trust
First Floor (North), Station House, 500 Elder Gate
Milton Keynes  MK9 1BB
for the attention of: John Brown
01908 351 822
john.brown@canalrivertrust.org.uk